Planned Giving

Trevor Memorial Endowment in Athletics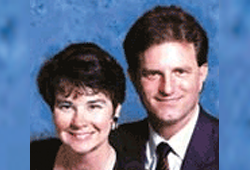 For Steve and Jamie Trevor, UCI was more than just an alma mater, it was family - a family that provided education, confidence and friendship. As passionate Anteater basketball fans, the Trevors' commitment to UCI grew even stronger after they graduated and married. Steve obtained a bachelor's of arts from the School of Social Ecology in 1978 and a bachelor?s of science from the School of Biological Sciences the following year. Jamie received her degree from the School of Biological Sciences in 1997. They gave of their time, service, and financial support, and life was good.
But life took a tragic turn when Steve was killed in a plane crash. Jamie knew what Steve would have wanted, and she established an athletic scholarship endowment in his memory at UCI. Then she learned she could name The UCI Foundation as beneficiary of her life insurance policy, ultimately fully funding the endowment and helping others reap education rewards similar to those she and Steve enjoyed while at UCI.
Jamie became even more involved and joined the UCI Athletic Association, later becoming its president. Life was good again. Then suddenly she fell ill and was diagnosed with terminal cancer. Bedridden at home, Jamie was visited by members of her UCI family who took turns sitting with her around the clock. She maintained her naturally upbeat disposition even in her final days, joking about the basketball team or making recommendations for the athletic program.
Jamie and Steve are remembered for their kindness and enthusiasm for their alma mater. The Steve and Jamie Trevor Memorial Endowment, which helps student-athletes make the most of their UCI experience, carries on their spirit of kindness in perpetuity.