Planned Giving

Provides Fellowships for the School of Humanities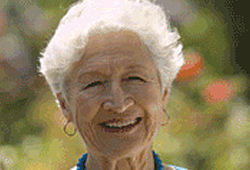 Formerly a World War II naval officer, sales executive and financial consultant, Virginia Laddey has always had a progressive perspective on life. After retiring, the avid art collector and literature devotee moved to a new home near UCI and immediately immersed herself in the university community.
Whether writing, traveling, trading in the market or attending campus events, Ms. Laddey thrives on activity. Her long and productive career earned her much business success, which she shares helping UCI students through her scholarship gifts.
Ms. Laddey's gift annuities, established through the university, pay her a secure, fixed, lifetime income. Her contribution also provides her with a prudent hedge against inflation from a variable-rate pooled income fund. Additionally, she contributed through a charitable remainder unitrust which provides a family member with an income stream while making an impact at the School of Humanities.
Through her generous gifts, Ms. Laddey became a member of the Legacy Society at UCI, established in 1993 to recognize those who wish to leave a legacy to UCI through estate or deferred gifts. These commitments create scholarships, professorships and other endowments that provide lasting opportunities for recipients.
Ms. Laddey offers sage advice for people interested in gift-planning options: "Find people well-schooled in the benefits of various investment strategies. UCI is very helpful and does a truly professional job of this."