Planned Giving

Dolores and Forest Grunigen '31, M.D. and '62, M.D.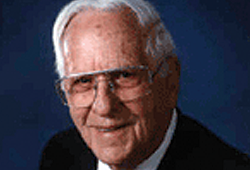 Dr. Forest Grunigen's association with UCI dates back to 1931 when he graduated from the College of Osteopathic Physicians and Surgeons, specializing in urology. He recognized a need for change and led the way toward the merger of the osteopathic and medical professions. He was instrumental in the unification of the American Medical Association, California Medical Association, California Osteopathic Association, and the California Legislature in a state ballot initiative that brought the College of Osteopathic Physicians and Surgeons - which became the College of Medicine - to the campus of UCI. He deeply committed himself to the education and training of physicians, and helped ensure the survival and success of what is now UCI's College of Medicine. In 1962, Dr. Grunigen received his medical degree from the UCI California College of Medicine and served as honorary clinical professor until 1984. Following his retirement from medical practice, he continued to serve the medical profession and the State of California with numerous appointments, including the State Board of Medical Examiners, where he met Dolores. They married in 1976.
Dr. and Mrs. Grunigen's dedication to the success of the College of Medicine was further strengthened when they chose to establish a charitable remainder annuity trust to benefit the Forest J. Grunigen, M.D. Library Fund and the Stanley van den Noort Fund.
In honor of Dr. Grunigen's work, the College of Medicine and UCI Libraries established the Forest J. Grunigen, M.D. Library and Medical Education Center located at the UCI Medical Center in Orange. The Grunigen Library, dedicated in 2001, is a learning and resource center for medical faculty, students and residents, and serves as a cornerstone of medical education. It has become part of the enduring legacy of Dr. Grunigen, who passed away in 1999, serving as a reminder of his accomplishments and the leadership that influenced many generations of medical alumni.