Planned Giving

Supporting the School of Social Sciences and Getting a Gift in Return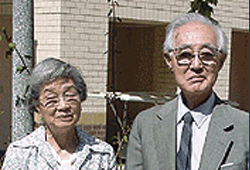 The Indows' strong ties to UCI go back to 1978 when Professor Tarow Indow joined the School of Social Sciences, where he taught mathematical models and quantitative analyses of visual space, color space, and human memory. Professor Indow retired in 1993, but continues to maintain an office on campus where he conducts research and writes. Mrs. Indow, a former teacher in Tokyo, is also an ardent supporter of education.
In 2002, the Indows established a planned gift to support the School of Social Sciences. Because of the volatile economy at that time, they preferred the guaranteed nature of a charitable gift annuity, which provides them with a guaranteed fixed income stream. This annuity provides them a stable retirement income while generating a nice charitable income tax deduction.
Today, Professor Indow continues his research and is collaborating on a project of visual color with other distinguished professors.
We are most grateful for the Indow's ongoing generous contributions to the campus. Their gift is just the latest example of their leadership on the UCI campus.