Planned Giving

Pamela Adams, MBA '98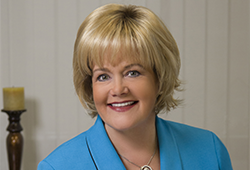 Pamela Adams, MBA '98 believes in paying it forward. An investment manager and certified financial planner, she values the guidance she has received from mentors throughout her long, prosperous career. Now she wants to make sure that other people, especially underserved youth, have opportunities to become financially literate ? and to discover the power of philanthropy. For Adams, professional success and charitable giving go hand in hand. She hopes to pass on this philosophy to recipients of the scholarship she endowed at the UCI's-Center for Investment and Wealth Management.
"I want people to learn to make philanthropy part of their life journeys, so that they give back along the way," Adams says.
Thanks to her generosity, every summer a ninth- or 10th-grade student from an economically disadvantaged community will be able to attend the CIWM's LIFEvest financial literacy program. The weeklong, residential workshop on the UCI campus is designed for teens who have the potential to become first-generation college students. LIFEvest partners with 10 organizations and several school districts, including Santa Ana Unified, to identify ambitious, capable students for the program. The CIWM funds LIFEvest with support from sponsors and donors who make it possible for students to attend at no charge.
Launched the summer of 2011, the LIFEvest program has served 218 students to date. Sixty teens ? 30 girls and 30 boys ? participated in 2016, double the enrollment of the previous year. In addition to studying the basics of financial literacy, students learn how to prepare for success in college and establish goals that will help them succeed throughout their lives.
"My goal," Adams says, "is to teach financial literacy to the point where students will, ultimately, earn enough money and learn how to invest it so that they have more to give. And I want them to give with intention, so their philanthropy makes a positive difference as well."
Looking ahead, she imagines the impact her gift will have:
Marie, a ninth-grader who hopes to be the first person in her family to attend college, receives a Pamela Adams scholarship to participate in the LIFEvest financial literacy program hosted by UCI. The weeklong summer residential program on the UCI campus teaches Marie how to establish meaningful life goals. She engages with faculty members and meets industry experts. She learns the difference between a banking account and an investment account and between a stock and a bond. She explores career options and prepares a personal budget. She practices teamwork and learns to give a winning presentation. She also discovers how philanthropy can change lives.
Marie feels so inspired by these experiences that she works extra hard in high school so that she'll be able to attend UCI after she graduates. She imagines giving back to her family and community when her career takes off. Her parents encourage her to pursue her dreams.
Getting accepted to UCI is one of the happiest days of her life. Marie majors in business and further develops her financial literacy by earning an MBA. She develops the skills she needs to excel in her field. She stays at the top of her game. When she becomes CEO of her own company, she establishes a scholarship at the UCI for alumni of the LIFEvest financial literacy program. She becomes a role model for those students, who may someday endow their own scholarships and make the world a better place. Marie discovers firsthand the satisfaction of paying it forward.
The LIFEvest scholarship that Adams created helps students like Marie for many generations to come. Their success stories reaffirm the value of financial mentoring not only early in life but also throughout the life span.
Adams realizes that she could not have achieved her own level of success without guidance from others. She credits her first boss with introducing her to the basics of financial literacy when he urged her to consistently contribute to her 401(k) retirement plan. Decades later, after reaping the benefits of that investment, she appreciates how valuable her boss's advice had been.
She feels especially indebted to her professors at UCI, where she earned her MBA in 1998, after working in the business world almost 20 years. Eager to actualize her full potential, Adams decided to continue her education and reinvent herself. She thought the degree would allow her to remain competitive in the job market. She didn't expect to form a lifelong bond with UCI, yet that is exactly what she has done.
Adams is founding chair of the Dean's Leadership Circle, a sustaining member of the Dean's Advisory Board, and a founding member and co-chair of the CIWM, a center of excellence at the forefront of education and research concerning the creation, management and transfer of wealth. In 2005, the UCI Alumni Association honored her with a Lauds & Laurels Distinguished Alumna award.
"Pam Adams is the iconic role model for our students," says Andrew Policano, faculty director of the CIWM and former dean. "Successful professionally, she is devoted to improving the community around her and enabling others who are less fortunate to have the opportunity to succeed. Whenever we need advice or support, Pam is always the first to volunteer. We are indeed fortunate to have her guidance, generosity and friendship."
"What I've enjoyed most at UCI," Adams says, "is being part of a community. I can look back with great satisfaction that I created personal and professional relationships that have been in place a long time and, hopefully, will continue in the future."
The legacy she has built at UCI reflects her abiding belief in the power of education to change lives and foster self-reliance. Adams hopes the beneficiaries of her endowed gift will commit to investing in themselves, their education and their communities. Through her own life choices, she inspires young men and women with dreams to follow her lead.